Praise for the Lord #154
Words: Priscilla J. Owens, 1883
Music: Edmund S. Lorenz, 1883
Priscilla Jane Owens (1829-1907) is best remembered today for her songs "We have heard the joyful sound (Jesus saves!)" and "Will your anchor hold?", both set to stirring music by William J. Kirkpatrick and published in 1882. These are remarkably successful examples of gospel song and hold up well (as does the song under consideration here), but her name has otherwise faded from memory. It is worthwhile to note, then, that an editorial in a Methodist journal in 1911 mentioned "Priscilla J. Owens, Mrs. Joseph F. Knapp, Josephine Pollard, and Fannie Crosby" as examples of notable women hymnists ("Let us sing"). Mrs. Knapp is Phoebe Knapp, better known as the composer of Fanny Crosby's "Blessed assurance", and Josephine Pollard was a nationally known children's author as well as a hymnwriter. By comparison to Crosby, of course, Owens wrote "only" 200+ lyrics; but this was never the focus of her very full life of community and church service.
Priscilla Owens was born and raised in Baltimore, the daughter of Isaac Owens, a commercial merchant on the old Dugan's Wharf (
Matchett's
1851
205). He was prosperous enough to provide her an education at the Patapsco Institute, followed by secondary education at the Ladies' Collegiate Institute (Perine 206), and eventually the family moved into the more fashionable environs of Lombard Street and the Union Square district. Priscilla never married, instead pursuing a career in the public schools, where she served for an impressive half-century. Her first appointment, in the 1852/53 school year, was as an assistant teacher at Female Primary School No. 9 (
Ordinances 1853
243). She must have made an impression; within three years she was moved up to fill a vacancy for principal at Male Primary School No. 7 (
Twenty-Seventh Annual Report
27). She remained ten years, then took over as principal at Male Primary School No. 10, where she and three assistants taught 199 boys (
Thirty-Seventh Annual Report
172). Owens was still principal there in 1880 (
Woods' Baltimore City Directory 1880
1139), but that fall was reassigned as an assistant teacher at Female Primary School No. 8 ("Sitzung" 7 July 1880). She was only 51, so this seems an early retirement, but she had already been a principal for 25 years. She may have wanted a less demanding position that allowed more time for her growing Sunday School work; another possibility is that the school board wanted to use Owens as a mentor to younger teachers. As late as 1880 she was serving as an assistant teacher to a group of schools ("Sitzung" 7 July 1880).
Priscilla Owens's gospel song career began with a bang in 1871, when composer and publisher Asa Hull published no fewer than 34 of her lyrics in a single book. Though his name has faded from the modern repertoire, William Reynolds placed Hull alongside William Bradbury, George F. Root, William H. Doane, and Robert Lowry as founders of the Sunday school gospel song (104), and Benson narrows it further, speaking of "Sunday school songs of the Hull and Bradbury school" (484). Though they were based in different cities, Hull and Owens likely knew each other--or of each other--though their work in the Methodist Sunday school organizations. Asa Hull's works found in WorldCat show that he was publishing Sunday school songbooks in Boston as early as 1862 and moved his operations to Philadelphia by 1865. His Casket of Sunday School Melodies (1865) was successful enough to warrant a supplemental issue, then was reissued in 1869 in a combined format. Though Hull generally issued a new book every year, his output slowed in the late 1860s. His 1871 offering, Sparkling Rubies, has the appearance of striking off in a new direction, and it is here that Priscilla Owens enters the picture:
In presenting "Sparkling Rubies" for public consideration and popular favor we feel called upon merely to state that much care has been exercised in the selection of hymns and the proper adaptation of the music to the same, as well as the appropriateness of the whole to the existing wants of the Sunday-School, which seem to be in the direction of new but sound evangelical hymns set to pure yet enthusiastic and inspiring music.

The several contributors whose names appear over their respective contributions are writers of experience and ability, and the editors feel under great obligations to them for their kind assistance as well as for their manifested interest in the success of the work.

They feel especially indebted to Miss Priscilla J. Owens for the great variety of excellent Hymns written expressly for this work, and bespeak for her contributions that generous appreciation on the part of the public, to which they are justly entitled (Sparkling Rubies preface).
Hull's assistant in this work, Harry Sanders, was a Baltimore musician and piano seller whose Sanders & Stayman Co. would become a mainstay of Baltimore musical life ("Fifth Avenue"). He also published a couple of small hymn collections through the Methodist Episcopal Book Room of that city, and sometimes led the singing for the Methodist Episcopal General Conference in Baltimore (
Journal of the General Conference 1876
359), so he was likely well known to Priscilla Owens. Sanders wrote the music for the majority of Owens's songs in
Sparkling Rubies
(27 out of 34).
Owens's songs from Sparkling Rubies were reprinted in other Asa Hull publications during the 1870s, and a few new songs appeared during that decade, but it was not until the 1880s that Priscilla Owens produced another large body of works for a single publication. (Interestingly, this was when she moved to an assistant teacher position instead of being a principal; perhaps she had more time to focus on writing.) In 1880 two publications appeared that show her entering into a different orbit of gospel song publishing: Missionary Songs (New York: Lorenz & Co., 1880), edited by Edmund S. Lorenz, and The Quiver of Sacred Song (Philadelphia: John J. Hood, 1880), edited by John R. Sweney and William J. Kirkpatrick. Once again, the songs themselves were not lasting favorites, but it was the first time her lyrics came into the hands of the two composers who would set her most popular songs. William J. Kirkpatrick, who set to music "We have heard the joyful sound" and "Will your anchor hold?", would eventually be responsible for the music of 57 of Owens's 240+ hymns; Edmund Lorenz, who set "Give me the Bible", would write the music for 52 of them.
"Give me the Bible" first appeared in Holy Voices for the Sunday School (Dayton, Ohio: W. J. Shuey, 1883), edited by Edmund S. Lorenz and Isaiah Baltzell. This book contained 29 new songs by Priscilla Owens, and though she is not singled out in the preface, her contributions far outnumber those of any other author and the first song in the book is one of hers. The 1880s proved to be Owens's most productive period, averaging a dozen new songs published each year; but though her output fell to four or five each year in later years, new Priscilla Owens songs were still appearing even in the decade following her death. She also lived to see some of her most popular songs published in German, Spanish, Norwegian, and Swedish, and sung around the world.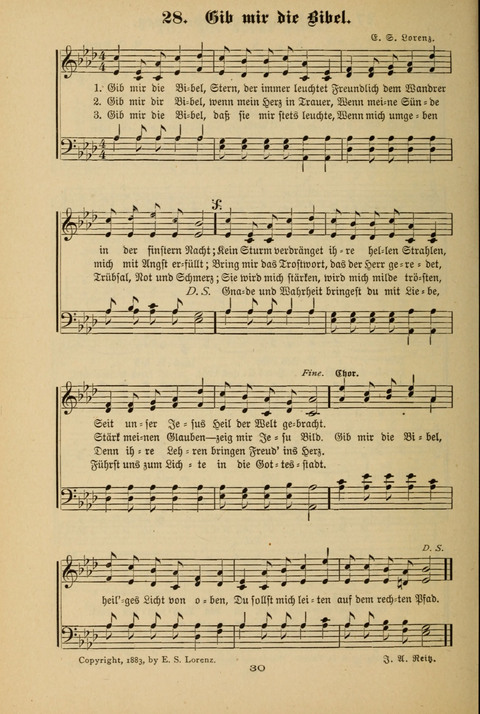 From Himmelwaerts (Dayton, Ohio: Lorenz & Co., 1899). German-speaking churches
were common in the Midwestern U.S. during the late 19th century.
Now for the text itself.
Christians who hold the Bible as the only authoritative source of doctrine and practice, and who take a high view of inspiration, are sometimes accused of "Bibliolatry." It is certainly a problem to be taken seriously, because Jesus took it seriously. He had these chilling words for some of His listeners: "You search the Scriptures because you think that in them you have eternal life; and it is they that bear witness about Me, yet you refuse to come to Me that you may have life" (John 5:39-40). With the first-century Pharisees and with us today, it is all too possible to have a dedication to Scripture and yet completely miss the point. But sometimes that accusation is a reflection of a culture, even among some who sincerely wish to follow Jesus, that resists recognizing an authoritative standard. This is equally wrong, and the Bible--the only objective source we have, when all is said and done, for the teachings of Jesus and His followers--is clear that it is to be taken as such a standard or not at all.
Jesus himself taught a high view of the Scriptures. In His temptation in the wilderness, He famously countered Satan's arguments with Scripture, stating first that "Man shall not live by bread alone, but by every word that comes from the mouth of God" (Matthew 4:4). In this He acknowledged that 1) there is a Word that comes from the mouth of God--as Paul would later say, "breathed out by God" (2 Timothy 3:16)--and that 2) that Word is just as important to spiritual life as bread is to physical life. Jesus said that Scripture cannot be broken (John 10:35), that the Word is truth (John 17:17), and that it alone will set us free (John 18:32). The Word spoken by Jesus is equally authoritative: "Heaven and earth will pass away, but My words will not pass away" (Matthew 24:35); it will make us clean (John 15:3) and will be spirit and life to us (John 6:63).
Jesus conferred the same authority to the Scriptures to be revealed through His chosen spokesmen, according to His promise to the apostles in John 16:
"I still have many things to say to you, but you cannot bear them now. When the Spirit of truth comes, He will guide you into all the truth, for He will not speak on His own authority, but whatever He hears He will speak, and He will declare to you the things that are to come. He will glorify Me, for He will take what is mine and declare it to you" (John 16:12-14).
Paul reflected on this in addressing the Christians in Thessalonica: "And we also thank God constantly for this, that when you received the word of God, which you heard from us, you accepted it not as the word of men but as what it really is, the word of God, which is at work in you believers" (1 Thessalonians 2:13). Peter echoed these thoughts in his first letter, equating the gospel he preached with the inspired word of God spoken of in Isaiah 40:6, when he said:
You have been born again, not of perishable seed but of imperishable, through the living and abiding word of God; for "All flesh is like grass and all its glory like the flower of grass. The grass withers, and the flower falls, but the word of the Lord remains forever." And this word is the good news that was preached to you (1 Peter 1:23-25).
Let us respect, love, and revere the Bible because of the One who gave it for our everlasting benefit. And for this reason, if we occasionally have a song that simply states this doctrine as a reminder of the importance of Scripture in our lives, no apology seems necessary.
Stanza 1:
Give me the Bible, star of gladness gleaming,
To cheer the wand'rer, lone and tempest-tossed;
No storm can hide that radiance peaceful beaming
Since Jesus came to seek and save the lost.
Printed below the title of this song in its first publication is the verse, "Your word is a lamp to my feet and a light to my path" (Psalm 119:105). Light as a metaphor for truth and righteousness, as well as for knowledge and wisdom, is found developed throughout the Scriptures. To this famous line from the great acrostic Psalm we may add the earlier Psalm 43, verse 3, "Send out Your light and Your truth; let them lead me; let them bring me to Your holy hill and to Your dwelling!" The Proverbs add a note of progression out of darkness as one follows this light: "The path of the righteous is like the light of dawn, which shines brighter and brighter until full day" (4:18).
These thoughts are echoed by the New Testament writers, but pointing more specifically to the great Source of this light. Paul tells his readers that "God, who said, 'Let light shine out of darkness,' has shone in our hearts to give the light of the knowledge of the glory of God in the face of Jesus Christ" (2 Corinthians 4:6). Peter seems to echo the verse from Proverbs when he says, "We have the prophetic word more fully confirmed, to which you will do well to pay attention as to a lamp shining in a dark place, until the day dawns and the morning star rises in your hearts" (2 Peter 1:19).
The "star of gladness gleaming" that guides the "wanderer, lone and tempest-tossed" first calls to mind the use of stars for navigation, fixed points that guided sailors to their destinations centuries before satellites and GPS. The stars don't lie; in fact, since the advent of electronic "GPS spoofing" the U.S. Navy has reinstated this skill requirement for officers. Spiritually speaking, the Bible is that fixed star that will always give us the true direction again no matter how confused our present course. But looking at the metaphorical (and actual) use of stars in Scripture, we might also consider how a star led three men to Jesus, and Peter's mention of the "morning star" that rises in our hearts. At the end of John's Revelation, Jesus declares himself "the bright morning star" (22:16); according to Peter, then, the word of God is a lesser light that guides us to the full glory of Jesus.
The power of this lamp's light is the power of the One who lit it, and "no storm can hide" it--"the light shines in the darkness, and the darkness has not overcome it" (John 1:5). The promise toward which this light guides us is the salvation that comes through Him who declared himself "the Light of the World" and promised His followers "the light of life" (John 8:12). The Bible's great purpose is to lead us to the light of salvation though Jesus's sacrifice; "For the word of the cross is folly to those who are perishing, but to us who are being saved it is the power of God" (1 Corinthians 1:18).
Chorus:
Give me the Bible, holy message shining,
Thy light shall guide me in the narrow way;
Precept and promise, law and love combining,
Till night shall vanish in eternal day.
Psalm 119:130 also draws on the metaphor of the Word as light: "The unfolding of Your words gives light; it imparts understanding to the simple." It shines the light of knowledge--of God's will, of ourselves, and of this fallen world--on our surroundings, and makes it possible to choose our way with certainty. "When I think on my ways, I turn my feet to Your testimonies; I hasten and do not delay to keep Your commandments" (Psalm 119:59-60). The "narrow way" here of course refers to Jesus' words in Matthew 7:14, "For the gate is narrow and the way is hard that leads to life, and those who find it are few." Not surprisingly, both the Hebrew Testament and the New Testament emphasize the need to keep this lamp of truth close at hand in daily life:
You shall therefore lay up these words of mine in your heart and in your soul, and you shall bind them as a sign on your hand, and they shall be as frontlets between your eyes. You shall teach them to your children, talking of them when you are sitting in your house, and when you are walking by the way, and when you lie down, and when you rise. You shall write them on the doorposts of your house and on your gates, that your days and the days of your children may be multiplied in the land that the LORD swore to your fathers to give them, as long as the heavens are above the earth (Deuteronomy 11:18-21).
But as for you, continue in what you have learned and have firmly believed, knowing from whom you learned it and how from childhood you have been acquainted with the sacred writings, which are able to make you wise for salvation through faith in Christ Jesus. All Scripture is breathed out by God and profitable for teaching, for reproof, for correction, and for training in righteousness, that the man of God may be complete, equipped for every good work (2 Timothy 3:14-17).
Priscilla Owens found a happy turn of phrase with "precept and promise, law and love combining." Twenty-one times in the 119th Psalm the word "precepts" is found (in the KJV), emphasizing the necessity of keeping God's appointed "thou shalts" and "thou shalt nots". (Let those who scoff at the idea of commandments have one of the Ten broken against them, and they are usually found on God's side of the matter!) But if the Bible tells us in precepts what we must and must not do, it is also full of God's promises of what He will do. In the preface to his All the Promises of the Bible, Herbert Lockyer notes that people have come up with widely varying numbers when trying to count all of God's promises in Scripture. One even claimed over 30,000 promises, nearly equal to the number of verses in the Bible, which in a certain sense is correct. As Joshua said in his farewell address to Israel,
And now I am about to go the way of all the earth, and you know in your hearts and souls, all of you, that not one word has failed of all the good things that the LORD your God promised concerning you. All have come to pass for you; not one of them has failed (Joshua 23:14).
Joshua had seen his people enslaved to a great world power and had seen that power humbled by the judgment of God. He had seen the Red Sea parted and the terrifying presence of the Lord at Sinai. He had been through the wilderness where by all rights the nation should have perished from thirst and hunger and had seen God provide for them every time. He had seen the sun stand still in the sky, the flood of the Jordan parted, and the walls of Jericho fall down. In all of it he could clearly see that "not one word failed" of what God had promised.
The Bible also perfectly blends law and love. Law without love is legalism; but love without law is equally undesirable, for our understanding of love is a work in progress, still warped by selfishness. The core of the discussion of this topic in Romans 13 is this:
For the commandments, "You shall not commit adultery, You shall not murder, You shall not steal, You shall not covet," and any other commandment, are summed up in this word: "You shall love your neighbor as yourself." Love does no wrong to a neighbor; therefore love is the fulfilling of the law" (Romans 13:9-10).
But lest we take from this the idea that "just love one another" is the only law we need to observe, John has a rejoinder:
Whoever says "I know Him" but does not keep His commandments is a liar, and the truth is not in him, but whoever keeps His word, in him truly the love of God is perfected. By this we may know that we are in Him (1 John 2:4-5).
Keeping the law without love is missing the point; but our love must be guided and guarded through the wisdom of God's Word. And from God's side, the Word demonstrates that perfect example of steadfast love exhibited through firm guidance.
Stanza 2:
Give me the Bible when my heart is broken,
When sin and grief have filled my soul with fear;
Give me the precious words by Jesus spoken,
Hold up faith's lamp to show my Savior near.
(Chorus)
In the second stanza Miss Owens points out the role the Bible has always played in times of trial and anxiety. I think of how Psalm 4:8 came to my mind as I waited to fall under the effects of anesthetic before a lengthy surgery: "In peace I will both lie down and sleep; for You alone, O LORD, make me dwell in safety." I remember visiting an elderly neighbor in the hospital on what turned out to be his last night in this world, and how he, being unable to speak, pointed to his Bible and signed "2... 3..." I understood then that he wanted me to read the 23rd Psalm. We could all multiply instances in which we opened our Bibles in the depths of despair and found a solid place upon which to stand. Psalm 119:28 says well, "My soul melts away for sorrow; strengthen me according to Your word!" And in times of anxiety, especially in those small hours of the morning when we feel most alone, how often we echo the words of Psalm 130:5, "I wait for the LORD, my soul waits, and in His word I hope." A friend nearby is a blessing, but for the wisdom of ages we turn elsewhere: "Your testimonies are my delight; they are my counselors" (Psalm 119:24).
Most comforting of all, of course, are the words of Jesus himself--because He understands where we are crying out from. His heart was broken. His grief over the sins of the world sometimes overwhelmed His soul. He faced the horror of His upcoming Crucifixion in Gethsemane. Whatever you are going through, however dark the night of the soul, Jesus knows. And as we read His words in time of need, we hear again the steady voice that said so often "Be not afraid." To Jairus, who had just heard that his precious daughter had died, Jesus said, "Do not be afraid, only believe" (Mark 5:36). To the terrified disciples in an early-morning storm on Galilee, He said "Take heart, it is I; do not be afraid" (Matthew 14:27). To His troubled followers on the night of His betrayal He said, "Let not your hearts be troubled, neither let them be afraid" (John 14:27b). The words of Jesus are comfort and encouragement, instruction and guidance. We need to keep close to those words at all times, remembering Peter's amazed statement, "Lord, to whom shall we go? You have the words of eternal life" (John 6:68).
Stanza 3:
Give me the Bible, all my steps enlighten,
Teach me the danger of these realms below;
That lamp of safety o'er the gloom shall brighten,
That light alone the path of peace can show.
(Chorus)
It is an interesting exercise to go through the clearance section of a used bookstore and spot the titles of yesterday's best-seller self-help books. For decades now there has been no end of "7 Habits of X" or "The Power of Y", and though I am sure some of them are helpful, I can't help but think that many of them were chiefly helpful to the author's own finances. A common thread, of course, is that most are accessible, quick reads that promise positive results with a few easy steps.
The Bible doesn't come with that guarantee. Some of it is more accessible, of course; many people in the world recognize the truth of some of the Proverbs or the famous sayings of Jesus, even if they do not know the source. But the Bible doesn't come a la carte, and we must reckon also with the difficulties of the Word, such as God described in His call to Isaiah:
And I heard the voice of the Lord saying, "Whom shall I send, and who will go for Us?" Then I said, "Here I am! Send me." And He said, "Go, and say to this people: 'Keep on hearing, but do not understand; keep on seeing, but do not perceive.' Make the heart of this people dull, and their ears heavy, and blind their eyes; lest they see with their eyes, and hear with their ears, and understand with their hearts, and turn and be healed." (Isaiah 6:8-10).
Part of this, of course, is that the Bible says some things we understand perfectly well and just don't want to hear. But the greater part is an actual inability to grasp the meaning (as Jesus referenced when quoting this passage). Receiving the Bible's wisdom and guidance requires us to put aside a lot of what the world holds as truth, and to learn to think in God's way with God's values. It is a lifetime of unlearning and learning as we become more the kind of people God means us to be.
But as difficult as it sounds (and is), it is the only sure path. The second section of the 119th Psalm begins with a famous passage on the guidance of a young man, which is just as true for any person of any age:
How can a young man keep his way pure? By guarding it according to Your word. With my whole heart I seek You; let me not wander from Your commandments! I have stored up Your word in my heart, that I might not sin against You (Psalm 119:9-11).
The time to look at a map is before, not after, you get lost. Though we will often be looking to the Bible to find guidance in correcting the messes we have gotten ourselves into, it is a better policy to commit its wisdom to our hearts ahead of time. Paul advised Timothy to work at this diligently: "Follow the pattern of the sound words that you have heard from me, in the faith and love that are in Christ Jesus." (2 Timothy 1:13). The power in the Word is from God, but it does not just magically jump into our minds. Even Paul and Timothy had to apply themselves to study. "For the word of God is living and active, sharper than any two-edged sword, piercing to the division of soul and of spirit, of joints and of marrow, and discerning the thoughts and intentions of the heart" (Hebrews 4:12). Only an instrument of such power can cut through the devil's lies and reveal the right path; only an instrument of such power can strike fire again in a stony heart.
But like anything so powerful, one must learn to use it correctly. When soldiers in training are issued their rifles, they are expected to learn not only to fire them accurately, but to operate them safely and maintain them correctly. They are taught each part and its function, and are drilled in each action to be taken with the weapon. Each rifle is someone's individual responsibility, and woe to the recruit who fails to use and maintain the weapon correctly! Paul shows the same seriousness toward the Scriptures: "Do your best to present yourself to God as one approved, a worker who has no need to be ashamed, rightly handling the word of truth." (2 Timothy 2:15). It is our reliable roadmap, a trusty tool that will be ready for any occasion, and it will be worth every minute of time we take in learning how best to benefit from it.
Stanza 4:
Give me the Bible, lamp of life immortal,
Hold up that splendor by the open grave;
Show me the light from heaven's shining portals,
Show me the glory gilding Jordan's wave.
(Chorus)
The final stanza of this song shows the help the Bible brings at the final crisis of earthly life, with a frankness that may be startling to non-Christians. Was such casual discussion of "open graves" appropriate in what was after all a Sunday School song? In the time Priscilla Owens wrote this text, of course, people far more often died at home, and the care of the body was more likely to be handled by family and friends. Given the higher mortality rates from what are today preventable diseases, the child in that environment would have seen bodies, funerals, and graves multiple times by the time they were old enough to read this text.
But there is more to it than that; the Christian even in a modern first-world setting is confronted with death, talks about death, and sings about death as a matter of course. Physical death is appointed for us all (Hebrews 9:27), and the problem of death (physical and spiritual) could be said to underlie all of Scripture. We do not deny death and pretend it isn't there; instead, we can look in the "open grave" (whether of a loved one, or considering our own someday) with understanding, grieving but not grieving "as others do who have no hope" (1 Thessalonians 4:13). We understand because we have this word from the Lord:
For the Lord himself will descend from heaven with a cry of command, with the voice of an archangel, and with the sound of the trumpet of God. And the dead in Christ will rise first. Then we who are alive, who are left, will be caught up together with them in the clouds to meet the Lord in the air, and so we will always be with the Lord. Therefore encourage one another with these words. (1 Thessalonians 4:15-18).
And how often have Christians carried out the exhortation in that last verse? How many times have these words gotten someone through the hardest day of their life? Many other passages could be suggested as well, that have been tried and true in comforting the dying and the bereaved. The light of that "lamp unto our feet" shines far enough to "gild Jordan's wave," reflecting its light on the dark waters to be crossed and spying out the better land on the other side, the source of all light. Christians, hold onto that lamp and follow its guidance, it is the only sure way to end up at last with the great Author of the Book!
About the music:
Edmund Simon Lorenz (1854-1942) was a man of amazing intellectual vitality. His father, a German immigrant, was a newspaper editor and preacher for the United Brethren, and no doubt raised his son in an environment of learning and inquiry. But though Edmund would eventually follow in his father's footsteps as an ordained minister, the demand for his musical and editorial abilities started early. Lorenz became the music editor for the United Brethren Publishing House in Dayton, Ohio when he was just 19 years old, and from 1876 on he supplied them with numerous Sunday school and revival songbooks, not to mention the popular
Otterbein Hymnal
(1890) and the official
Church Hymnal
of 1934. Somehow, he also found time to complete a B.A. and M.A. (simultaneously, of course) at Otterbein University, then a Bachelor of Divinity at Yale, all by 1883. His composing and editing continued while he was pastor of the High Street Brethren congregation in Dayton from 1884-1886, and during a brief stint as president of Lebanon Valley College (Porter).
An unspecified health crisis forced Lorenz to resign from Lebanon Valley College in 1889, and in 1890 he turned to church music as a full-time endeavor. The Lorenz Corporation, founded that year and still going strong, became a major force in gospel music publishing, and in choral music publishing in general. Lorenz also wrote several books on church music, most notably Practical Church Music (1909) and The Singing Church (1935) (Porter). Though he primarily published gospel music, Lorenz's writings show that he also had a deep respect for the classical hymn tradition; he simply wanted the best music for the purpose people at hand. Blessed with a long life, he was a living link from the earliest days of gospel music, and a reminder of the sometimes neglected part that the Northern states played in its development. Some of his other well-known compositions are "Come, let us all unite to sing", "Tell it to Jesus", and "Thou thinkest, Lord, of me", for all of which he provided the music.
Holy Voices, published in 1883 by W. J. Shuey (a publishing agent within the United Brethren house), was co-edited with Isaiah Baltzell, a well-known church leader in the United Brethren as well as a songwriter (best remembered for "I want to be a worker for the Lord"). Baltzell was from Maryland and preached in Baltimore during the late 1850s (Hall 116), so it is possible that he might have been the connection with Priscilla Jane Owens. (The Brethren and Methodists shared a lot of history in Baltimore through the friendship of Philip Otterbein and Francis Asbury, leaders in their respective denominations in the late 1700s.)
The tune of "Give me the Bible" shows the usual economy of means that often marks a well-constructed gospel song. The rhythm of the first two measures flows naturally from a reading of the first line of text, and these two rhythms (long-short-short-long-long and short-short-short-short-long-long) provide the moderate but steady forward motion of the melody throughout. The four lines of the stanza are set as a parallel period (abab'), while the chorus begins with a little more contrast before repeating the closing two phrases of the stanza (cdab'). The overall form of the stanza and chorus together, then, might be represented as AA'BA', with interlocking parallel structures on two levels. (Or, put more simply, it sings well; but I can't resist analyzing why it sings well.)
A particularly good use is made of the range and voicing of the chords at the opening of the chorus, on the phrase "Give me the Bible". Throughout the stanza, the parts are written in typical ranges for congregational singing. The soprano stays within the treble staff. The alto circles around the bottom line of the treble staff, dipping a couple of notes below and rising a couple of notes above. The tenor does the same with the top line of the bass staff, and the bass is within the staff. There is a lot of range to work with in this format, and Lorenz takes advantage of it by having first the alto move in parallel with the melody ("star of gladness gleaming"), and then the tenor ("lone and tempest-tossed"). But at the opening of the chorus--and the restatement of the key idea of the text--all the voices are pushed into the upper end of their ranges. The alto leaps up to an A-flat, the beginning of a higher section of the voice's range, and the tenor is above the staff in the range where it comes through more brightly. These five chords ring out like a trumpet call, calling attention to the plea of the text.
---
References
Twenty-Seventh Annual Report of the Commissioners of Public Schools. Baltimore: Samuel Sands Mills, 1856. https://www.google.com/books/edition/Annual_Report_of_the_Board_of_School_Com/QiBDAQAAMAAJ?hl=en&gbpv=1&pg=RA1-PA1
Thirty-Seventh Annual Report of the Board of Commissioners of Public Schools. Baltimore: James Young, 1866. https://hdl.handle.net/2027/nyp.33433076003528
Benson, Louis F. The English Hymn: Its Development and Use in Worship. New York: Hodder & Stoughton, George H. Doran company, 1915. https://catalog.hathitrust.org/Record/001413176
"The 'Fifth Avenue' piano store of Baltimore." The Music Trade Review 63:10 (2 September 1916), page 15. https://mtr.arcade-museum.com/MTR-1916-63-10/
Hall, John Jacob. Biography of Gospel Song and Hymn Writers. New York: Revell, 1914. https://archive.org/details/biographyofgospe00hall/
Holy Voices for the Sunday School, and other services of the church, edited by Edmund S. Lorenz & Isaiah Baltzell. Dayton, Ohio: W. J. Shuey, 1883. https://archive.org/details/holyvoices00lore/
Journal of the General Conference of the Methodist Episcopal Church, held in Baltimore, Md., May 1-31, 1876. New York: Nelson & Phillips, 1876. https://hdl.handle.net/2027/uiug.30112051963186
"Let us sing Psalms exclusively." The Church School Journal (Cincinnati: Methodist Book Concern), 43:7 (July 1911), 478. N.B. The title of the editorial is meant sarcastically, in response to criticism of Sunday School music.
Lockyer, Herbert. All the Promises of the Bible. Grand Rapids, Michigan: Zondervan, 1962.
Matchett's Baltimore Directory 1851. Baltimore : R.J. Matchett, 1851. https://archive.org/details/matchettsbaltimo1851balt/page/205/mode/1up
Ordinances and Resolutions of the Mayor and City Council of Baltimore 1853. Baltimore: Jos. Robinson, 1853. https://www.google.com/books/edition/Ordinances_and_Resolutions_of_the_Mayor/PSQ_AQAAMAAJ
Perine, George Corbin. The Poets And Verse-writers of Maryland: with Selections from Their Works. Cincinnati: The Editor Publishing Co., 1898. https://catalog.hathitrust.org/Record/011408101/Home
Porter, Ellen Jane Lorenz. "Edmund S. Lorenz." Hymnary.org. https://hymnary.org/person/Lorenz_Edmund
Reynolds, William Jensen. A Survey of Christian Hymnody. New York: Holt, Rinehart and Winston, 1963. https://catalog.hathitrust.org/Record/001459006
"Sitzung der Stadt-Schulbehörde." Der Deutsche Correspondent (Baltimore), 7 July 1880, page 4. Chronicling America: Historic American Newspapers https://chroniclingamerica.loc.gov/lccn/sn83045081/1880-07-07/ed-1/seq-4/
"Sitzung der Stadt-Schulbehörde." Der Deutsche Correspondent (Baltimore), 24 January 1901, page 2. Chronicling America: Historic American Newspapers. https://chroniclingamerica.loc.gov/lccn/sn83045081/1901-01-24/ed-1/seq-4/
Sparkling Rubies: a Choice Collection of New Sunday-School Music, edited by Asa Hull, assisted by Harry Sanders. Philadelphia: A. Hull & Co., 1871. https://archive.org/details/sparklingrubiesc00hull
Woods' Baltimore City Directory 1880. Baltimore, Md : John W. Woods, 1880. https://archive.org/details/woodsbaltimoreci1880balt/page/1139/mode/1up